Developed in Germany perfected in Canada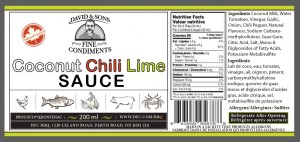 This sauce has a unique and new taste. For those of you who hate coconut – it doesn't taste like coconut. And if you're afraid that it's hot and spicey because of chili in the name –  don't worry it's not hot! Also, this sauce is vegan-friendly and we are working on getting it approved by Vegecert.
Our Coconut Chili Lime Sauce (or CCL for short) continues to surprise us in ways that it can be used. Vegans love it because it adds a new taste to their diets. It's great on fish and seafood…and a friend of ours put it on her pork chop. Another friend added it to a chicken and rice dish after initially pouring it on broccoli. Keep coming back to this page as we will be posting recipes and ideas.
Ideas to start with:
fish tacos
chicken tacos
seafood (shrimp, scallops, mussels, lobster, calamari)
fish
pork chops
pasta
broccoli
baked potatoes – all varieties including sweet potatoes 
rice
chicken and rice
a starter base for a Thai curry
marinade for chicken
fish & chips
tortilla dip
dip for chicken wings
dip for sweet potato fries
canned sardines
Butter Chicken
Vegetarian Wraps
Swiss Chard
Chicken Kabobs
Mushrooms (raw & cooked)
Banana wraps
Tempura (any type)
Bok Choy
Fried rice
Sticky rice
Raman noodles
Hakka Chicken Pakoras
Lobster rolls
Pad Thai
Pappadums
Lentils
Chickpeas
Quinoa
Pulled Pork
Coleslaw
Corn on the Cob